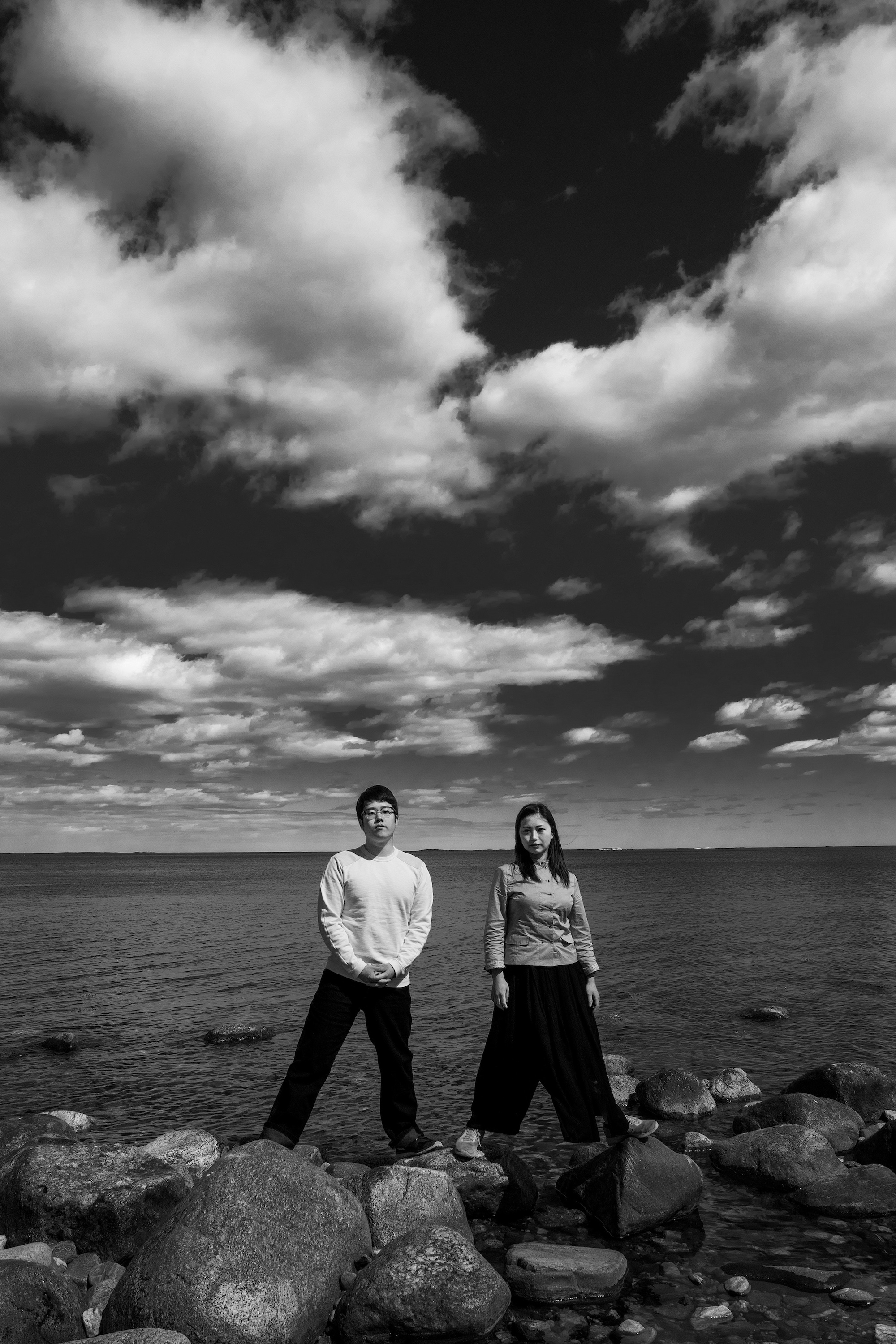 Photo: DanÅke Carlsson
Ayaka Ono & Akira Nakazawa / Spacenotblank
Theatre makers company created by Ayaka Ono (Photo on the right) & Akira Nakazawa (Photo on the left) based in Tokyo, Japan. Since 2012.
Ayaka Ono & Akira Nakazawa / Spacenotblank is exploring the way and value of performing arts itself while incorporating new expression thinking and production method without being concerned with the established concept of performing arts. In the main project "Pi & Co.", Akira Nakazawa serves as the director of all performances. And we are actively collaborating with other artists.
– Spacenotblank / スペースノットブランク
小野彩加と中澤陽が舞台作品を制作する団体。2012年より制作を始める。
舞台作品の既成概念に捉われず新しい表現思考、制作手法を取り入れながら舞台そのものの在り方と価値を探求している。主たるプロジェクト「Pi & Co.」では中澤陽がすべての作品の演出を務める。また、他アーティストとのコラボレーションも積極的に行なっている。
Project – Pi & Co.
Project for creation of performing arts which Akira Nakazawa directing.
– The pieces are original, and can not be revival.
– Choose time, place and people for each piece.
– To pursue new performing arts.
– Pi & Co. / ピコ
中澤陽が演出を務めるプロジェクト。
– 作品はオリジナルであり、再演されない。
– 作品ごとに時間、場所、人を選択する。
– 新しい舞台性を追求する。
Ayaka Ono
小野 彩加
– Theatre maker & Dancer
Started creation with Akira NAKAZAWA since 2012.
In 2016, Ayaka ONO took part in "Tsukiakari Theater" headed by Nobuyoshi ASAI, "Kirari Fujimi Regional Company ACT-F" led by Junnosuke TADA.
Furthermore, she was involved the works of Momoko SHIRAGA, Mika KUROSAWA, Kaeru-P and DODODO-MORI as a dancer or performer.
– 舞台作家 ダンサー
2012年より中澤陽と共に制作を始める。
2016年より浅井信好率いる月灯りの移動劇場、多田淳之介率いるキラリふじみ・リージョナルカンパニーACT-Fに参加。他に、ダンサー及びパフォーマーとして白神ももこ、黒沢美香、かえるP、ドドド・モリなどの作品やゆずなどのライブに参加している。
Akira Nakazawa
中澤 陽
– Theatre maker & Performer
Started creation with Ayaka ONO since 2012.
Furthermore, Akira NAKAZAWA produces archive videos of Ko MUROBUSHI as a videographer, participated in the works of Yo NAKAMURA, Fujiyama Annette and Ayaka ONO. Also he's involved in the works of Fabien Prioville, Takahiro FUJITA and Yumei as a performer.
– 舞台作家 パフォーマー
2012年より小野彩加と共に制作を始める。
他に、映像作家として室伏鴻のアーカイブ映像の制作、中村蓉、冨士山アネット、小野彩加などの作品に参加。パフォーマーとしてファビアン・プリオヴィル、藤田貴大、ゆうめいなどの作品に参加している。
Pi & Co.

2016
demon Nation
Direction
2015
AlphaOmega
Direction
2015
One Wonderland
Direction
2014
monsoon monomania
Direction & Choreography
2013
FATBOMBER
Direction
2012
sadaco
Direction
2012
PARA DE
Direction & Performance

Ayaka Ono & Akira Nakazawa

2017
Journey to the Blank
Direction & Performance
2017
Civilization from Outer Space
Direction
2017
Chance Operations
Direction
2017
before Christ before Ono
Direction
2016
Cymon & Ophelia
Direction
2016
Chromosome Organism
Direction & Videography

Akira Nakazawa

2017
Love Dialogue Now
Text & Direction
2015
PICAROPRINT
Co-Production w/ Rune Takahashi
Direction & Performance

Other Works – Performing Arts

2017
AUG
Yo Nakamura
"KAO -The Face-" (Revival)
Videography
2017
APR
Yumei
"Shime"
Performance & Videography
2017
MAR
Yo Nakamura "Lost time, same SUN"
(São Paulo, BR)
Assistant
2017
FEB
Tottori Culture and Arts Foundation
w/ Yonago Cultural Foundation
"OPERA BLACKJACK" (Yonago, JP)
Videography
2016
OCT
Yumei
"Fes"
Performance & Videography
2016
SEP
Yo Nakamura
"KAO -The Face-" (Revival)
Videography
2016
SEP
Hamamatsu Cultural Foundation
"OPERA BLACKJACK" (Hamamatsu, JP)
Videography
2016
SEP
Fujiyamaannette
"Attack On Dance World Tour 2016"
(Beijing, CN / São Paulo, BR / Yokohama, JP)
Videography
2016
JUL
Takahiro Fujita
"A-S"
Performance
2016
APR
Nina Dipla
"7 steps of life" Work-in-Progress
Performance
2016
APR
Yo Nakamura
"Youki-Na-Zenei / Cheerful Avant-Garde"
Videography
2016
MAR
TEDxTokyo yz
"Jinrui / Mankind"
Videography
2016
FEB
GORGONITES
"Chabashira Tatta's Nibansenji Radio"
Voice
2016
FEB
Fujiyamaannette
"DANCE HOLE"
Co-Creation & Videography
2015
OCT
fabien prioville dance company
"THE SOMA PROJECT"
(Düsseldorf, DE)
Performance
2015
SEP
Shintaro Oue
"Taiji / SHORT deai ING dearu"
Performance
2015
AUG
fabien prioville dance company
"THE SOMA PROJECT"
(Tokyo, JP)
Performance
2015
MAY
Kaeru-P
"Color babar"
Support of Production
2015
APR
Ayaka Ono
"Businessman Uncontrollable"
Scenography & Videography
2015
FEB
Yo Nakamura
"KAO -The Face"
Videography
2014
APR
Yo Nakamura
"River Side Hotel"
Videography
2013
OCT
Fujiyamaannette × Dance Theatre 4P
"The Absence of the City"
Performance
2013
SEP
Fujiyamaannette × Fujiyamaannette/Manos.
"Woyzeck/W"
Assistant Director
2013
APR
Kaeru-P
"Ano-Hito-To"
Support of Production & Performance
2013
FEB
Fujiyamaannette
"Siauliai's Cross"
Assistant Director
2013
JAN
Motoko Hirayama
"Horizon Beige"
Performance
2012
JUL
Fujiyamaannette
"milky way"
Performance
2012
JUL
Fujiyamaannette
"the eight JAPAN TOUR 2012"
Assistant Director
2012
APR
HORIPRO
"ENRON"
Support of Choreography
2012
FEB
Fujiyamaannette/Manos.
"HIKIKOMORI"
Assistant Director
2012
JAN
Fujiyamaannette
"the eight"
Assistant Director
2011
AUG
Fujiyamaannette
"○○eight"
Assistant Director

Other Works – Video

2017
MAY
Yo Nakamura
"Lost time, same SUN" Digest Clip
Direction & Edit
2017
JAN
Yo Nakamura
"Visões Urbanas 2017" Trailer
Direction & Edit
2016
AUG
Yo Nakamura
"KAO -The Face-" Digest Clip (Short Ver.)
Direction & Edit
2016
MAY
AND。
"Visual Concept Video"
(Co-Creation w/ design TO)
Videography
2016
FEB
Ko & Edge Co.
"MERCURE SEA"
Co-Direction & Edit
2016
FEB
Ko & Edge Co.
"Ko Murobushi / Wandering Body 70s, 80s, 2000s"
Edit
2014
JUN
Mamoru Suzuki
"Makase-Ni-Omakase"
Performance
2013
NOV
NegaMens
"Dreamer Takeshi Fukumoo -Road to Art college student probowler- Part3"
Direction
2013
AUG
the chef cooks me
"Tekitou-Na-Yami" MV
Performance
2013
JUN
Kasarinchu
"Natsu-Ga-Owaru-Mae-Ni" MV
Performance
2013
MAY
MUSACINE
"Tsumugi-Tomeru-Aka" MV
Performance
2012
NOV
NegaMens
"Dreamer Takeshi Fukumoo -Road to Art college student probowler- Part2"
Direction
2011
NOV
NegaMens
"Dreamer Takeshi Fukumoo -Road to Art college student probowler- Part1"
Direction